Safety is our number one core value.
Training
We invest heavily in training our people.
Orientation
Driver Training
Ongoing Training for Everyone
Groendyke has a team of training professionals at our headquarters in Enid. In the field, we have salaried elite drivers whose sole purpose is training drivers and managing our 39 certified driving instructors and 2 field training coordinators.

The safest drivers. Period.
All of our tractors are on a five-year trade cycle to ensure our equipment has the latest in safety technology – such as collision mitigation systems, air disc brakes and lane-departure detection.

We're the only 8-time winner of the National Tank Truck Carriers North American Safety Champion Award.

Our equipment and maintenance programs are first class. Regular preventive maintenance has given our fleet a reputation for having the cleanest, most well-maintained equipment on the road.

Our technicians take pride in handling all repairs in-house at our 39 shop locations, ensuring all equipment meets Groendyke's exceptionally high standards for safety, operation and efficiency.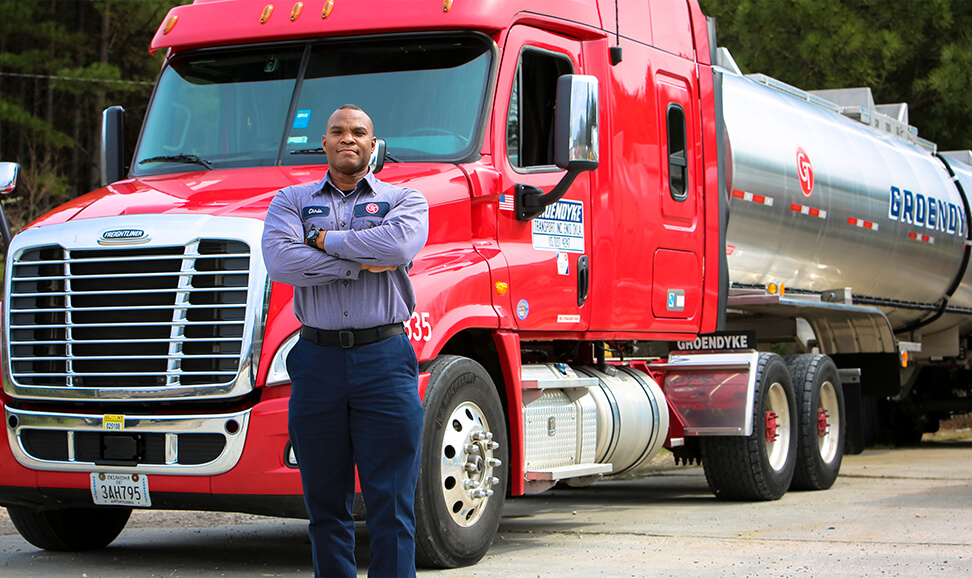 Our President's Club
Groendyke drivers who have safely driven 1 million miles or 10 consecutive years without a preventable accident with Groendyke earn induction into this prestigious club. Since its inception, more than 500 drivers have joined the club, including about 130 current drivers.
Support for drivers
Find out why Kenneth Ringo, Wash Rack Manager in Channelview, Texas, says Groendyke is one of the best companies he's ever worked for.
Non-drivers, Technicians & Corporate

It takes a whole team of great individuals to keep our trucks on the road, loads dispatched, and operations running smoothly. Find out more about becoming an integral part of our front line support team.

Military

Groendyke proudly supports our military veterans. If you have previously served our country, find out more about how Groendyke can serve you.